Resources
home
/
Resources
/
Development of the project-level Women's Empowerment in Agriculture Index (pro-WEAI)
Author: Malapit, H.; Quisumbing, A.; Meinzen-Dick, R.; Seymour, G.; Martinez, E.; Heckert, J.; Rubin, D.; Vaz, A.; Yount, K. |
Publication Date:
2019/01/01
Region:
Global
| Topic: Agriculture & Food Security, Gender 360

Tags: International Food Policy Research Institute (IFPRI), Research and Evaluation, Toolkits and Methodologies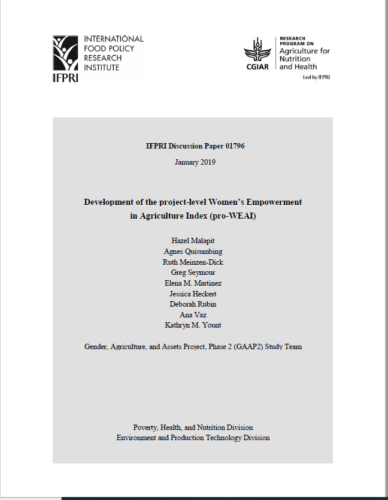 With growing commitment to women's empowerment by agricultural development agencies, sound methods and indicators to measure women's empowerment are needed to learn which types of projects or project implementation strategies do and do not work to empower women. The Women's Empowerment in Agriculture Index (WEAI), which has been widely used, requires adaptation to meet the need for monitoring projects and assessing their impacts.
In this paper, the authors describe the adaptation and validation of a project-level WEAI (or proWEAI) that agricultural development projects can use to identify key areas of women's (and men's) disempowerment, design appropriate strategies to address identified deficiencies, and monitor project outcomes related to women's empowerment. The 12 pro-WEAI indicators are mapped to three domains: intrinsic agency (power within), instrumental agency (power to), and collective agency (power with). A gender parity index compares the empowerment scores of men and women in the same household. The authors describe the development of pro-WEAI, including: (1) pro-WEAI's distinctiveness from other versions of the WEAI; (2) the process of piloting pro-WEAI in 13 agricultural development projects during the Gender, Agriculture, and
Assets Project, phase 2 (GAAP2); (3) analysis of quantitative data from the GAAP2 projects, including intrahousehold patterns of empowerment; and (4) a summary of the findings from the qualitative work exploring concepts of women's empowerment in the project sites. The paper concludes with a discussion of lessons learned from pro-WEAI and possibilities for further development of empowerment metrics.